Appliance Servicing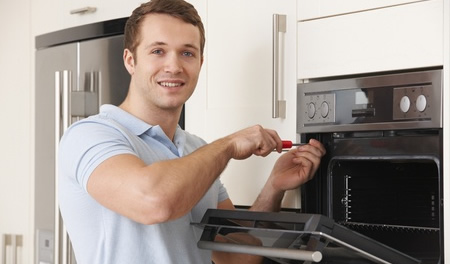 If your appliance needs servicing, please call into our office or get in touch with us on the numbers below or fill out the form.
NOTE: Please also check a few things before you call to avoid any unnecessary cost to you and to ensure that we can help you as quickly as possible!
Whangarei 09 4389512 & Mangonui 09 4081323
Before you call…
Checking a few things yourself could save you money and get a faster repair! Please read through this page first
1. Check the basics
Before booking a service call refer to the troubleshooting section of your appliance user manual. If that doesn't help, see if it's a power problem;
If your appliance appears to have no power check the following to eliminate an electrical issue at your property first.
Try another small appliance (kettle) in the same socket.
Try running an extension lead from the appliance to another socket that runs on a separate circuit.
2. If you still require a service call
Find the manufacturing label ON YOUR APPLIANCE not from the user manual .
We will ask for the make, model, product or pnc number and the serial number.
Sometimes these can be difficult to read so taking a photo with a smart device will let you enlarge the image to read, txt or email to us.
3. Finding the label
The most common place to find it is listed below and is almost always on the back of the machine as well. Some brands have it stamped into the metal but it is usually a type of sticker.
Chest Freezer – On the outside down by the compressor can also be somewhere on the inside of the appliance.
Cook top – On the bottom of the appliance. Open any cupboards or remove any drawers below the appliance if possible.
Dishwasher – Around the door on the inside of the appliance.
Dish Drawer – On the front of the appliance cavity behind the bottom left corner of the top drawer, you will need to open the top drawer to see it.
Dryer – On the inside around the door or door cavity of the appliance.
Fridge/Upright Freezer Fisher & Paykel – On the bottom right of the appliance on the cavity front above the kick plate, you will need to open the door.
Fridge/Upright Freezer – Inside the appliance usually on one of the sides, can be concealed by the vegetable bins.
Stove/Wall Oven – On the inside of the appliance, often on the front of the cavity in between the door hinges.
Washing Machine Top Loader – On the back of the control panel
Washing Machine Front Loader – On the inside around the door or the door cavity or in the filter compartment at the bottom of the appliance.
5. Call or Email Us
Please fill out the form to the right or for faster service, please call your nearest Scripps location.